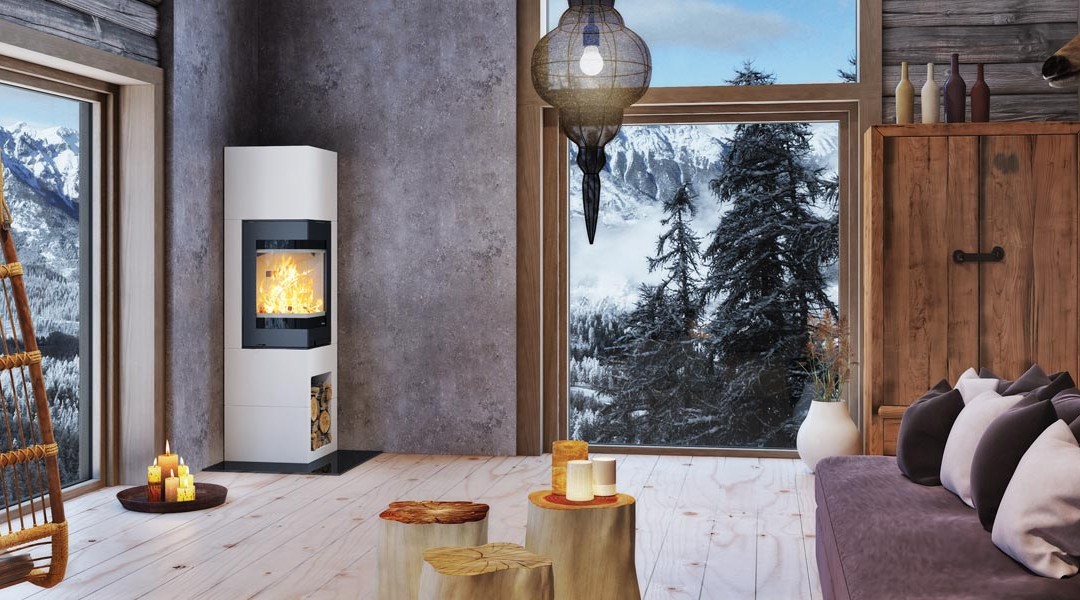 Burrr …. IT'S COLD AND WINDY TODAY!
With the nights drawing in and an autumnal feel in the air, now is the time to split the kindling, stack the logs and get ready with the firelighters…
There's no better way to enjoy the benefits of a real flame fire than investing in a wood-burning stove.
And here's 5 Reasons why…
Nothing beats the feel of a real fire. The glow of the flames and the crackling of the burning wood, we mortal humans are naturally drawn – it evokes a sense of security, belonging and social interaction.  Just think 'bbq and tongs' and you'll be on the right tracks!
Better for the environment and carbon neutral – the amount of CO2 released when burning wood is the same amount absorbed by the tree in its growing cycle. But think first before restoring your open fire, wood-burning stoves burn at 80% efficiency as opposed to 20% for an open-fire, meaning the heat goes into the room and not up the chimney.
With so many styles to choose from both traditional and contemporary, there's a wood-burning stove to suit every taste and design preference. What's more, with many models now available for use in Smoke Control Areas, now everyone can enjoy a wood-burning stove wherever they live in the UK. Explore the DEFRA website for a list of compatible stoves.
Take the chill off the air in the evening by lighting the stove in the main room, without the need for heating the whole house, a 'secondary heating' system that will give you savings on fuel costs and create a warm and cosy ambience.
Creating a focal point adds character to a room. In a small room, design the layout around the fireplace for a traditional feel. In larger spaces it can 'break up' a long expanse of wall or could be 'freestanding' for a contemporary look. Open plan living is further enhanced by the use of both bi-fold doors and a wood-burning stove, giving the room complete versatility all year round.
Look for the CE logo, reassurance that your stove has been independently tested to meet exacting European standards.
It's worth investing in the best wood-burner you can afford – for quality, performance, service and warranty – after all, this is a long term investment that will add value and appeal to your home, as well as giving you that warm feeling of smugness every time you strike that match and fire her up!
Check out the following manufacturers:
Morso  The pioneers of wood-burning stoves.  Great Danish design – solid, contemporary and functional
Nordpies  They know a thing or two about long drawn out cold winter nights…!
Chesney's   The UK's leading supplier of luxury fireplaces and stoves
Burley  Is this the most efficient wood-burning stove in the world?  Up to 90% efficiency
Stovax  One of UK's leading stove and fireplace manufacturers